World Snow Overview
We've created this page to help you find the best snow conditions. It combines past, present and future data sources from around Snow-Forecast.com and updates regularly. The Snow Roundup page is updated on Mondays and Thursdays for all major ski resorts. Live Eyeball snow updates are shown in real time when submitted via twitter by our global network of reporters. Resort Picks lists ski resorts from around the world where new snow is forecast, powder is reported and latest snow depths.
SNOW NEWS UPDATED 28 APRIL 2021

INTRODUCTION There is, overall, a feeling of optimism in Europe, even if it is rather ironic that it has arrived as the main ski season nears its end. Vaccination numbers are increasing and infection numbers decreasing in most countries now. After Slovenia and Slovakia allowed their slopes to re-open, the big alpine nations of France and Italy have been easing restrictions now too and Austria says tourism can resume from mid-May. The result of all that is increased confidence that glacier summer skiing will be back in France and Italy in about a month and in Austria more glacier areas plan to open now they have a hope of at least breaking even when they do so.
AUSTRIA REPORT There's been a bit of chopping and changing in terms of which Austrian glacier areas look set to be open through May and beyond. One of those that normally would be open, the Stubai glacier, now doesn't look like it will be after this weekend, but the Pitztal glacier (0/412cm / 0/165"), which usually ends an eight month long season in late April, says it will be open into June this year, and the Kitzsteinhorn (0/330cm / 0.132") has just extended its season to July 24th from a previously planned end date May 25th. It says its decision is based on the Austrian government saying tourism restrictions will begin to be lifted from mid-May when hospitality can re-open. This same decision has resulted in the Kaunertal glacier, which had been closed all winter, announcing it will open for the first time this year on May 15th and the Molltal, which has had the same scenario to deal with, saying it will open a week later on the 22nd. The Hintertux glacier (0/410cm / 0/164") continues to operate year-round, when not closed by pandemic rules at least. Snow conditions are exceptionally good for the end of April. There was a little more fresh snowfall up high last week and images posted of skiers still finding powder on the glaciers, under mostly clear blue skies. It has been warming up a bit in recent days after a largely cold month, but conditions remain great. The Stubai Glacier (0/375cm / 0/110") is ending its season earlier than previously announced but will be open for a final weekend this coming weekend through to the 2nd of May.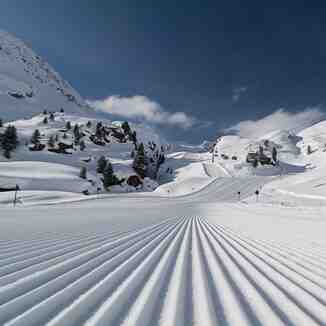 AUSTRIA FORECAST Austrian glaciers could see some fresh snowfall at the weekend as temperatures get well below freezing and precipitation (which will fall as rain in the valleys) moves in. So there's a chance of fresh pow up high for the start of May there.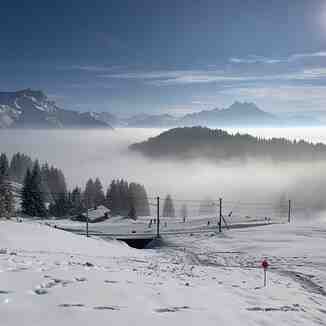 SWITZERLAND REPORT Swiss ski centres are largely continuing to follow their normal end-of-season closing and there will only be half a dozen still open as we enter May. They include Zermatt (0/160cm / 0 /64"), which is coming up to a year of daily operation since re-opening after the only Swiss lockdown last spring (2020). It still has 40km (25 miles) of groomed runs open. The weather has been largely dry, overcast with temperatures reaching double-digits above freezing in the valleys, freeze-thaw up high. But it has been cold enough at times for some late-April snowfall. The Diavolezza glacier (30/150cm / 12/60"), near St Moritz, posted 5cm (two inches) of new cover to start this week on Monday morning. Also still open are the Titlis glacier slopes above Engelberg (0/600cm / 0/240"), which has had the deepest base in Europe all year, it has 15km (9 miles) of slopes open up high. Also open are the glacier above Crans Montana (20/60cm / 8/24"), the ski slopes above Murren (30/265cm / 12/106"), as well as the Glacier 3000 (60/305cm / 24/122") ski area near Les Diablerets and Gstaad. Laax is also still open, having extended its season, but that's due to end this Sunday.

SWITZERLAND FORECAST It currently looks like there could be a decent snowfall up on Swiss glaciers to start May, with 20-30cm (8-12 inches) of fresh snow forecast over the weekend. Temperatures will drop below freezing to low elevations having stayed more freeze-thaw with cloudy weather for the rest of this week.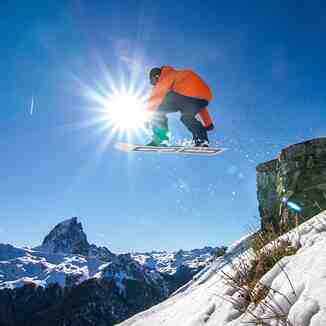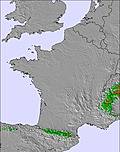 FRANCE REPORT The situation is the most optimistic it's been in the French Alps for some six months with an easing of restrictions announced by the country's PM at the end of last week. Things are still not yet certain but the three summer glacier ski resorts of Les 2 Alpes, Tignes and Val d'Isere have all confirmed their intention to open and Les 2 Alpes has, in fact, moved its planned opening date for daily operations from mid-June to the final weekend of May, all being well.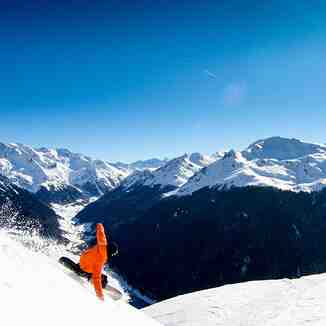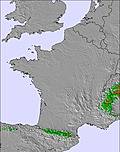 FRANCE FORECAST It has stayed cold with a mixture of rain and snow at higher elevations over the past few days and those conditions should continue through the rest of this week, the skies clearing at the weekend. Down in the valleys, temperatures have been 5-15 degrees above freezing.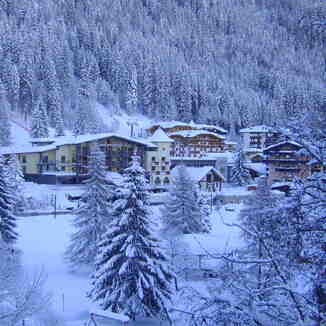 ITALY REPORT It is an improving picture with the pandemic in Italy this week with a relaxation in lockdown rules and many regions moving into the lower yellow band of regional restrictions. That said, there's no clarity yet as to when ski areas will be able to re-open, but it does look increasingly promising that the summer skiing at Passo Stelvio and Zermatt's glacier slopes, accessed via Cervinia, will open in late May/early June as hoped, (and as they did after the first lockdown last year). The Presena Glacier, in Trentino, used to keep a few steep runs open to late spring in pre-pandemic years but it's currently unclear if they'd consider opening so late in the season if allowed to. Italian weather? Well, it is fairly typical for the time of year with close to freezing up on high slopes, 5-15 degrees above down in the valleys, mostly sunshine this week.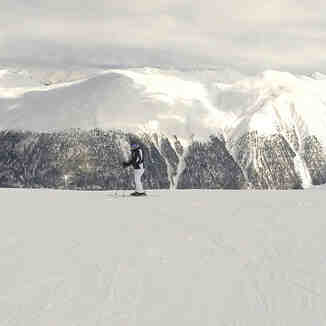 ITALY FORECAST No real change in the forecast with warm temperatures in the valleys, and above freezing to quite high altitudes above. Mostly dry but the longer-term forecast does point to the chance of precipitation to start next week which could be snow up on glaciers from Monday 3rd.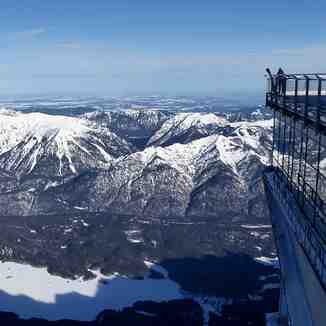 GERMANY REPORT Germany's very odd 20-21 ski season took another twist at the weekend and the few ski areas that had managed to open there have now been forced to close again by new pandemic measures. The larger of these, Winterberg (0/50cm / 0/20"), had managed to open about 15km of runs in March after the region where it is located (uniquely, as it turned out, of all German ski regions), allowed resorts to re-open. The snow was just a white ribbon on the green hillsides but the slopes were open and popular. But as of Sunday, a new federal law for all of Germany has closed the slopes again and it is unclear if they'll be able to re-open this time with 'mother nature' winning the inevitable springtime battle with snow.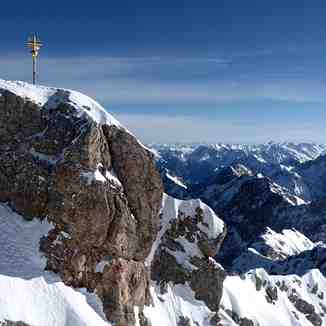 GERMANY FORECAST It is getting ever warmer, typically 5-15 degrees above freezing, and after a sunny start to this week it is looking cloudier with some rain expected towards the weekend. There are colder temperatures forecast by Sunday though which may actually deliver some snowfall for the start of May.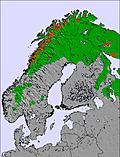 SCANDINAVIA REPORT Ski areas are closing fast now in Scandinavia, though a few dozen plan to see things through to the coming weekend, which includes a Monday holiday; traditionally the final day of the season for most of those still open. That said, Riksgransen (235/235cm / 94/94") will stay open until later in May, normally offering its skiing under the midnight sun, and several ski areas in Finnish Lapland, including Levi and Ruka, will stay open to May 9th. Norway's three summer glacier areas will begin opening the week after, so there's some continuity. The region's largest ski area, Sweden's Are (40/97cm / 16/39") is one of those still open but calling it a day on 20-21 season after Monday. It, like many in the region, has posted a few centimetres of fresh snowfall over the past few days but on the whole, it is getting warmer, as well as lighter with long daylight hours now. It still has about half its terrain and more than 40 runs open, however.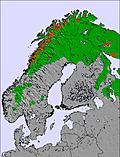 SCANDINAVIA FORECAST Staying cold, mostly overcast, mostly above freezing for most of the still-open Scandinavian ski regions. It was climbing into positive temps on lower slopes in many areas by the weekend though. Marginally better weather further north in the Arctic circle where temperatures should remain a few degrees below freezing day and night with no plus degrees periods up here and with more snow on the way through the middle of this week before skies clear.

SCOTLAND REPORT Scotland's ski areas were allowed to re-open after four months closed by the pandemic on Monday (April, 26th) but the one area that had hoped to offer lift-accessed in-bounds skiing, Glencoe, finally admitted defeat last Friday announcing it would not be able to offer a complete run, and saying the snow it had was too soft and fragmented to shape into a run. So lifts are now open but only for use by ski tourers looking to hike from the top to surviving high altitude snow patches. It has remained cold, on the whole, on Scottish slopes and spring ski touring conditions have been excellent thanks to that, combined with mostly clear skies and predominantly light winds. It has been an unusually fine April.

SCOTLAND FORECAST The forecast is for gradually rising temperatures and more typical Scottish weather: more wind and more cloud than there has been. So the snow patches are gradually shrinking but there is still some touring to be had, and with the lifting of internal British restrictions last week anyone in the UK can now access it.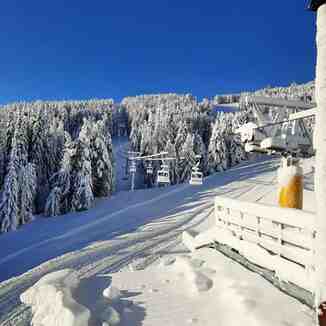 BULGARIA / ROMANIA REPORT A bit of a surprise in Bulgaria where it was assumed the season had ended this time last week. Instead, just after we posted last week's report, Borovets announced it would be opening higher runs for a 'final bonus weekend' last weekend. However, that appears to be the season over for good there now with no-repeat announced this coming weekend. Three ski areas are open in Slovenias, however, since resort re-opening was permitted a few weeks ago now. They include Kobla (0/425cm / 0/170"), at weekends, along with Vogel (0/255cm / 0/90") and Krvavec (0/90cm). So far all have confirmed they'll be open to this coming Sunday at least, but they may stay open longer.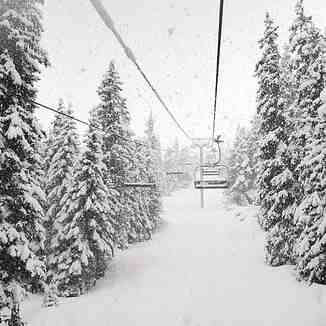 BULGARIA / ROMANIA FORECAST Warming springtime weather with temperatures typically 5-10 degrees in the daytime, 0-5 degrees at night, so thawing underway, but not so fast on higher slopes. A mixture of sunshine and some cloud/rain.
CZECH REPUBLIC / SLOVAKIA REPORT Slovakia's ski centres were allowed to re-open last Thursday, as we announced last week, and two of them took up that option, ? trbsk?? Pleso and Jasn?? (5/30cm / 2/12"). Both initially announced just four-day openings, through to last Sunday 25th. . Jasn??, at least, has now extended that period having announced its intention to keep the lifts running to at least May 2nd, despite the thin cover there on Slovakia's highest slopes. Slovakia's ski star Petra Vlhova has been seen on the slopes there this past week. The weather has been getting warmer in the Tatras after a helpfully cool and occasionally snowy first three weeks of April.
CZECH REPUBLIC / SLOVAKIA FORECAST It seems unlikely the Slovakian ski season will continue into next week as temperatures are looking ever warmer and will be in double-figures above freezing by the weekend. There's a lot of rain in the forecast for the remainder of this week too.

USA / Canada

NORTH AMERICA INTRO It has been a snowy week once more in many of the regions where ski areas are remaining open into May in North America. The Rockies have had up to a foot (30cm) more snow and ski areas still operating in the US Northeast also saw a nice fresh accumulation just in time for the weekend. But for most ski areas on the continent, the season is now over and we are down to about 20 centres still planning to operate into May. More than half of these will close after the first few weekends (and many are now only operating at weekends as it is), but the sole summer ski centre of Beartooth Basin, up on the Montana/Wyoming border, has announced that it intends to open for its 2021 season in a month's timer on May 28th.

ROCKIES REPORT Another snowy week in the Rockies with plenty of now-closed areas probably wishing March had turned out as snowy as April has. Among the half-dozen ski areas in the region staying open into May, Winter Park (74/74" /185/185cm), which has extended its season to May 9th, posted one of the biggest snow totals into the weekend with 11 inches (2cm) of fresh snowfall. Loveland (66/66" / 165/165cm) also open to May 9th, also reported a significant accumulation with nine inches (23cm) of fresh snowfall by the weekend. More Colorado ski areas, Arapahoe Basin and Breckenridge, as well as Snowbird, up in Utah, are expected to keep the lifts turning right through May. The weather turned sunny from Sunday through to Tuesday with temperatures yo-yoing either side of freezing point through night and day before still more snowfall arrived midweek to give another late April surface refresher.
ROCKIES FORECAST It will keep snowing past the middle of the week with up to eight inches (20cm) more snowfall expected. Then another sunny spell to end the week and start the weekend with more classic springtime freeze-thaw temperatures before more changeable weather again to start next week and the month of May.

USA WEST REPORT Several ski areas have already announced they're staying open to May and beyond, whilst some have extended their seasons for a weekend or two. In the latter category is the Alpental ski area (139/257" / 348/643cm), part of The Summit at Snoqualmie in Washington State and the claimant to the title of 'world's deepest snowpack' for much of this season. This area is re-opening for a final three days this coming weekend, Friday 30th April through Sunday (April 30 - May 2). The weather has been generally overcast in the north. Temperatures have hovered around freezing, more often a few degrees above and more often precipitation has fallen as rain rather than snow. Many of the ski areas open in the region, for example the Timberline Lodge ski area (0/160" / 0/400cm) on Mt Hood, in Oregon (which aims to stay open to the start of September each year), are posting the deepest bases on the continent so are looking good to get through the coming months. It is a different picture to the south where Squaw Valley (34/88" / 84/221cm) announced in the past few days it may not make its target May 31st season end date due to too much warm, dry weather. Mammoth (36/66" / 91/165cm) does not seem to have any doubts that it will get there though.

USA WEST FORECAST After a cool start to the week, California will see dry sunny weather and temperatures climbing up to the high teens above freezing, even on higher slopes. Cooler in the north with more cloudy weather and alas, some rain, possibly falling as snow up high though.

USA EAST REPORT Most ski areas in the eastern US have now closed. The main exception is Killington (0/31" / 0/76cm) which always piles snow high on its Superstar trail through the ski season and then sees how long it can stay open through May, usually making it to the end of the month. This year it has posted pictures of monster moguls (bumps) that have emerged there. A second Vermont area, Jay Peak (8/18" / 20/46cm), has announced it will re-open for a final day of the season this Saturday, May 1st only. It was a good final weekend for other areas open in the region until Sunday, including the last areas that had been operating in Maine: Sugarloaf and Sunday River. Up to 10 inches (25cm) of fresh snowfall was reported at the end of last week giving a great snow covering on Saturday and Sunday as the skies cleared.

USA EAST FORECAST Not a great end to the week in prospect with temperatures 5-15 degrees above freezing and some rain likely. It will clear at the weekend but be very warm.

CANADA REPORT It's been snowing in the northern Rockies too with the three still-open ski areas around Banff. Mt Norquay (138/138cm / 55/55"), Sunshine (204/204cm / 82/82") and Lake Louise (153/205cm / 61/82") are all posting snowfall totals of 10-20cm (4-8 inches) into last weekend, so it was a great final one for April here. Most other ski areas in western Canada are now closed, the major exception, Marmot Basin (145/145cm / 58/58"), up near Jasper, which has also had fresh snow. Norquay has extended its season but plans to close next weekend with Lake Louise and Marmot Basin carrying on a little further, Sunshine for most of May. Although it has been creeping above freezing in the daytime at the basses of these ski areas, temperatures have stayed low on the slopes right to the end of April and most are almost fully open still. Over in the east of Canada, all areas are reported closed except the Summit at Sauveur (10/30cm / 4/12"), which doesn't have much snow left but says it intends to keep opening at weekends into May so long as it has some.

CANADA FORECAST There's not much snow (or rain) in the forecast in the west. Staying cold into the start of May in the mountains and more cloud than sunshine forecast; mostly dry.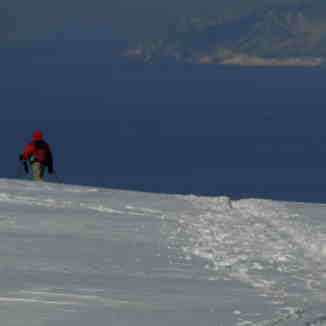 JAPAN REPORT The ski season for most of the Japanese ski areas that are still open is now into its final 10 days or so, with Wednesday, May 5th the main closing day for resorts like Niseko (60/370cm / 24/148"). But some have now announced a season extension including Happo One (94/140cm / 38/56"), which now says its lifts will be open through to Sunday 9th. The weather, well it's late April so no surprise it's normally too warm for any snowfall with mostly clear skies but occasional cloud and rain. The snowpack is melting by about 30-50cm (12-20 inches) a week. Niseko was closed for periods last week due to strong winds.

JAPAN FORECAST Really, more of the same as we enter May with warming temperatures, a fast thawing snowpack and plenty more signs that the end of the season is almost here.